Hello ~
Daphne / 24021992 / The Netherlands / Photographer.

I like books, bodymodification, art, ball jointed dolls, sleeping, nature, cameras, vintage stuff, cats, foxes, movies, romance, music, etc.





Instagram

@zeoka





about
Hi, I'm a 20 year old girl from the not so sunny Netherlands. You would probably recognize me with a camera in front of my eyes, taking photos of everything that she likes. Including my boyfriend, Tim. ♥







archive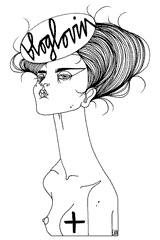 Follow my blog with Bloglovin
categories
contact me
For questions, advertising, product reviews, requests, etc.
Sponsors
link love

Ask for different sizes!





friends & reads





disclaimer

All photographs and text belong to me, Hope-inmadness, unless otherwise noticed. Please don't copy or use my images without permission

Layout made by tkh.


No I'm not dead.. yet! ;) Shopping trip in Amsterdam
Helloooo! Jeez, my blog is pretty dead, huh? Sorry about that, I've been quite busy. And I've been shopping haha. So that's pretty much where this post is about. Tim and I went to Amsterdam to the Game of Thrones exhibition which was AMAZINGG! And after that we went shopping! :)
(
blue crop top (€10) pink crop top (€10) black shirt with an open back (€15) - all from Monki and I payed €15,- in total. :))
(striped crop top (€17) white shirt with text (€20) - both from River Island)
(black 'Meow' shirt (€4,99) - New Yorker)
Labels: daily, shopping, shopping trip, update, what I bought
maandag 10 juni 2013 @ 12:32
27/365 +2
27/365 - Capturing moments




I have been thinking a lot, which way I want to go with this project. I think it might be a good idea to start taking analogue photos in this project as well. Although it's quite tricky I think.. I would love to know what you guys think. I would love to shoot more with my Zenit-11 again. It's definitely my favourite camera.

And today was a marvelous day! I got two packages! I finally got my print of Corinne Alexandra! I'm so happy and in love with it. She is one big inspiration for me and I feel so lucky that I had the chance to buy a print of hers.



+2 photos, my print from Corinne Alexandra and a super cheap ring from Ebay. I couldn't resist the cuteness! Too bad that it's way too small for my fingers.. I really have the weirdest vingers. :')



Labels: 365, art, camera, corinne alexandra, day 27, photography, print, what I bought
woensdag 30 januari 2013 @ 13:43
24/365
24/365 - Perfection the imperfection
This is kind of an experiment. I tried to capture my imperfections in a beautiful way. In my opinion my back/shoulders and my belly are my imperfections. I might have more, but these two are standing out and are making me insecure the most. I don't have a slim and feminine back with narrow shoulders. And it will stay this way, so I should embrace my body instead of hating it. Same for my belly, I always have had troubles with it, especially now because of my health problems. I have IBS (Irritable Bowel Syndrome) and I have trouble with eating food. My belly get swollen easily and it pretty much hurts every other day. It's also one of the places I always have felt insecure about because everyone wants a flat tummy right?
Anyway I made this because I want to change my mind. I want to get body positive.
And I will warn you, I don't respect any creepy comments or creeps in general, I will block you!
Labels: 365, days, photography, portrait, project, selfportrait
@ 13:42
23/365 +2
23/365 - Lips like roses


"Love is much like a wild rose, beautiful and calm, but willing to draw blood in its defense."
Labels: 365, day 23, photography, portfolio, portrait, selfportrait
@ 13:40